Click to Get Started
A day at Wag Central consists of supervised playtime within our indoor and outdoor spaces, reflecting your dog's play preferences groupings are big, small, and everything in between! Our unique play areas offer lots of stimulation; are off-leash, and are directed by our trained staffers. Check out our Event Calendar online for our activity of the day, be it Musical Monday, Crafty Canines, or a pancake leaping contest, you can be sure that our waggers will be happily entertained.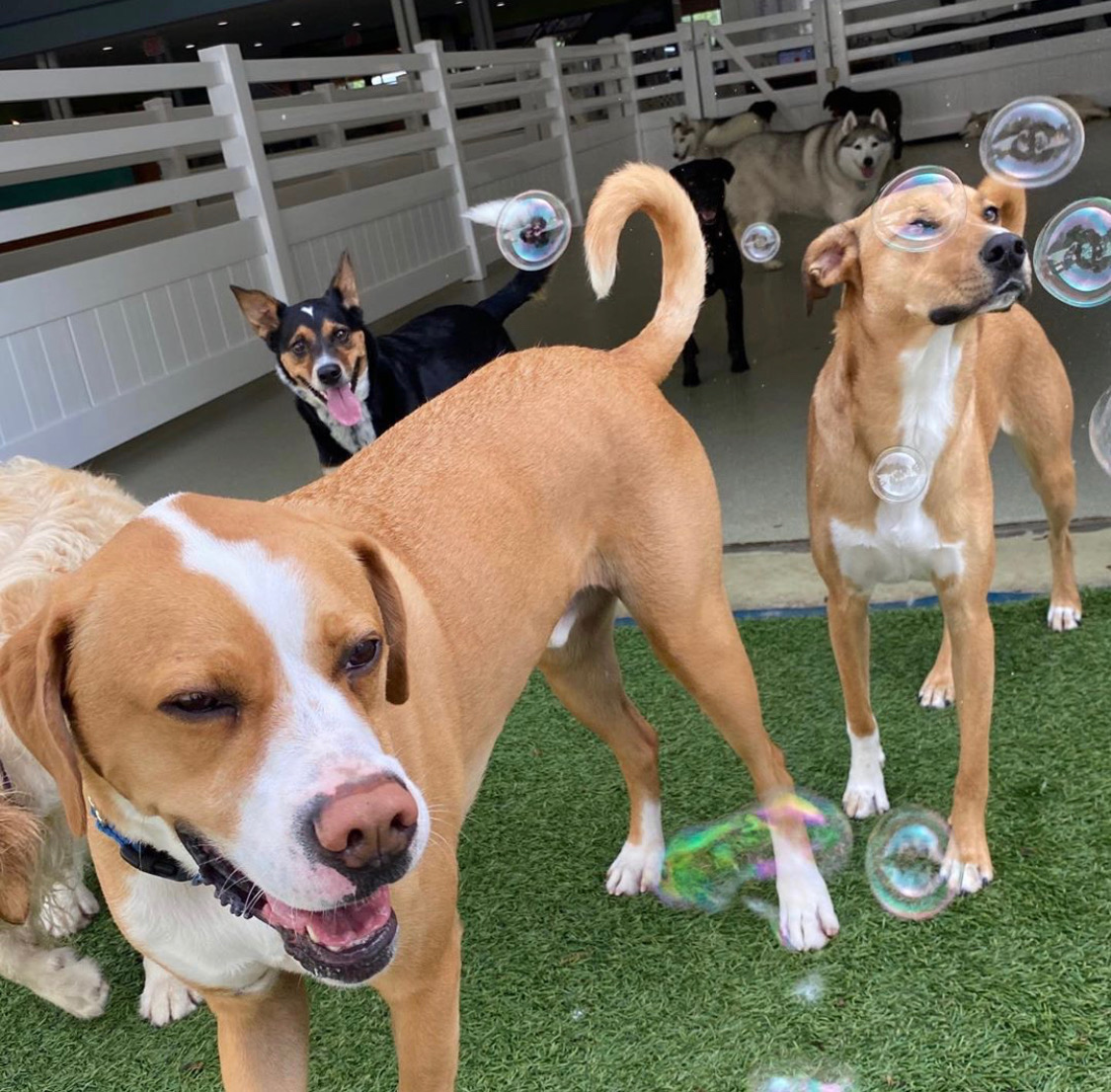 First Day Wagger:
After completing our Personality Profile and becoming a certified wagger, your pup will spend a half or full day at Wag within 2 weeks of the profile. On this first and special day, our staff will take the time to integrate the pup in groups and take extra care with them to diffuse anxiety or overexertion, taking notes to see their interactions in the groups, and noting their behavior in our kennel. For the safety of your pup, Wag requires a breakaway collar which is purchased worn, and kept at our facility. It is a one-time $20 fee. The collar has your phone number, your pup's name, our address, and phone number. First Day Wagger charges are separate from daycare packages. A daycare package cannot be used on the first day.
Wagaloo Structured Enrichment Program:
Our curriculum incorporates everything you love about Wag Central—mindful and sensory activities, seasonal fun, training, swimming, exercise, agility, and balanced play, but is limited to 14 dogs and led by two handlers. Small group enrichment activities can help nurture your dog's unique personality, stimulate them mentally and physically, and promote positive human and dog interactions. It also allows for better quality play and reduced stress. This program takes place on Tuesdays and Thursdays from 9 am-5 pm and costs $66 for the day, it can be reserved on our portal.

What encouraged us to start this program? In the years since Wag started, we've noticed three things:
1. Some dogs had gotten less active over the years. We thought: "How can we resolve this issue?" We wanted to continue giving them programs that kept them active.
2. Some dog personalities just sit back and watch rather than engage in play. Our program ensures that everyone has turns and opportunities to shine, which can then build confidence.
3. Our structured one-on-one and small group activities prioritize physical and mental fitness. The Wagaloo program allows us to individualize activities for all stages and needs, and it's beneficial to dogs of all ages.