Check out this handsome fella!
Rocky, a well-behaved 8 year old boxer came to Wag Central to socialize and spend time out of the house. The Wag Team thought this Sugar Face would need to take it easy, and placed him with the senior crew. However, lounging and watching the cars go by didn't float Rocky's boat!
Like his namesake, Rocky is one tough guy and has a whole lot of fight in him. As much as he liked our senior ladies, bingo was not his thing. He yearned for the action of the daycare and play park, where the youngsters tore about and yukked it up. Our Wag Team knew just what to do! We take pride in knowing every pup or mature dog is an individual, and Rocky is the perfect example.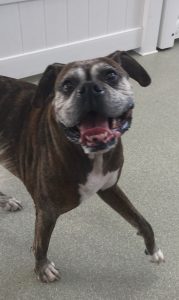 Now when Rocky comes to Wag, he easily fits into the active groups and struts his stuff. His tail goes a mile a minute when he enters our facility!
He is a model dog when we need a perfect example of how to sit and stay. Rocky was the star of a recent Facebook ad showing off our snowflake scarf activity. He has been known to push his way to the front of the camera when the pups say "Biscuits!" in our group photos. Rocky is also an occasional "photobomber" when taller pups are in front. Rocky loves the limelight!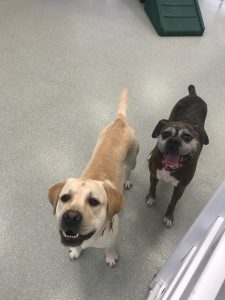 Although Rocky is a friend to nature, it is not always a friend back to him. Recently after been having dropped off at daycare, the Wag Team noticed a bad smell to the facility. A few fur checks later, we realized that Rocky had been skunked (at home, silly, not at Wag…) Not to worry, Rocky held his head high as he had an unexpected day of beauty, beginning with a de-skunking bath, blueberry facial, love potion Valentine spritz, and blowout. He gave his Wag groomer a "Paws Up!"
Although the team jokes that he may throw out a hip, this gentle and sweet four legged mush keeps the young guys in check and barks a cheerful hello to all who pass. Wag is a fun place, and Rocky is our cheerleader.
We invite your furry canine family members to join ours! Visit our website at wagcentralct.com or give us a call at 203-377-1700. Say that Rocky sent you!