The Holiday season is all about spending time with those you love, 2-legged and 4-legged. Cozy fires, cups of cocoa, tail wags and lots of cookies, human and dog! The tidings of the holiday season can sometimes slip through the cracks as we make ourselves crazy searching for those perfect gifts for everyone on our lists.
Bark not, we compiled a Holiday Gift Guide, Wag Central style embracing those 4-legged friends who bring so much spunk, love and laughs to our lives. We've also included gift ideas for those 2-legged humans who love them.
Gifts for 4-legged Friends
Puppies
Bringing a puppy home any time of year is a gift, but can be extra magical this time of year. While puppies require lots of time, and hard work for years to come, spoiling them rotten is pretty easy to do. Here are our top gift choices for the puppy in your life:
Planet Dog Lil' Pup Bone – designed specifically for puppy jaws and razor teeth, these soft bones can be put in the freezer to get through those pesky teething pain.
Planet Dog Lil' Pup Globe Ball – also doubles as a treat ball or a way to slow feed your pup, these balls have an unpredictable bounce to keep puppy minds guessing.
P.L.A.Y. Wobbler Toy – is your pup super food motivated? This toy will keep them busy for hours, as they use their bodies to get treats or kibble out of it's many obstacles.
P.L.A.Y. Treat pouch for training – since a puppy mentally develops most during 8-12 weeks, we highly recommend making learning fun with this pouch. Plenty of room for training treats, plus a squeaker means your pup will be sitting and staying in no time!
Outward Hound Fun Feeder – if your pup can't finish his food fast enough to the point where you are questioning how much he chewed it, a fun feeder is your answer! This product not only slows your pup's eating but makes an interactive game of meal time.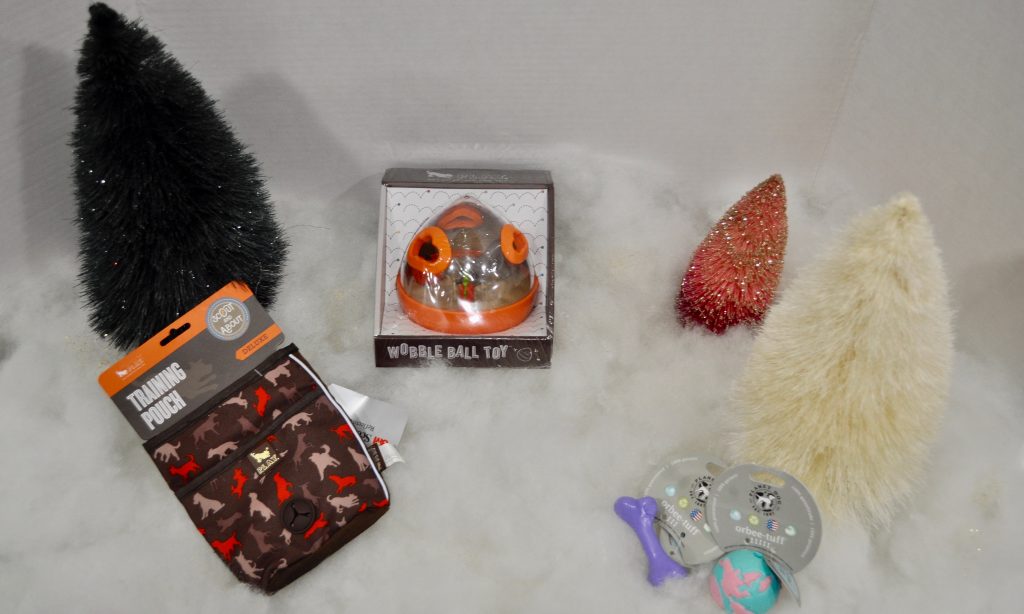 Puppy gifts from left to right: training pouch ($9 – $20),
Wobble Toy ($18.90), Lil' Pup Bone ($7.50 – $11.50), Lil' Pup Globe Ball ($11)
Seniors
While we love puppies, there is certainly something to be said for that special sugar face in your life. As dogs get older, their senses slowly diminish. Toys that are brightly colored, soft in texture, and loud when interacted with, are a great way to keep your senior sharp and engaged. Here are our top gift choices for the senior dog in your life:
Planet Dog Old Soul Bone – similar to the Lil' Pup line, Planet Dog's Old Soul Line is dedicated to the jaws and chompers of the older generations of dog.
P.L.A.Y. Ornament with squeaker – spread a little holiday cheer with a squeaky ornament, 5 designs to choose from.
Planet Dog Whistle Ball – playing fetch made easy for dogs losing their eyesight or hearing.
West Paw Holiday Blanket – what senior dog doesn't love a warm place to snuggle up? These blankets are fleece lined and oh so soft!
Dental chews – keep your dog's teeth clean with these sensitive-tummy-friendly dental chews, they come in two sizes.
Senior gifts from left to right: Ornament with squeaker ($7 – $13), Whistle ball ($16),
DenTee Stars ($12 – $24), Holiday Blanket ($30 – $90), Old Soul bone ($11 – $18)
Active Chewers and Destroyers
Does your dog have jaws of steel? Does every toy you buy him get destroyed in a matter of minutes? We know the frustration that is having a dog who is relentless when it comes to killing stuffies, and shredding tennis balls. We've hand selected the below gift ideas for just that dog.
Earth Animal No Hides – a safe alternative to rawhides, No Hides are easily digestible and come in 4 different flavors – salmon, beef, chicken and pork.
Antlers (split and whole) – a long lasting, safe chew that won't make a mess of your home or your dog. Antlers leave virtually no residue, no odor and they keep your pup interested for hours.
Planet Dog Orbee Tuff Products – glow balls, Snoops, and more, all of these toys are built to last from the most destructive of jaws. All Orbee Tuff products have treat holes to keep the fun going even longer!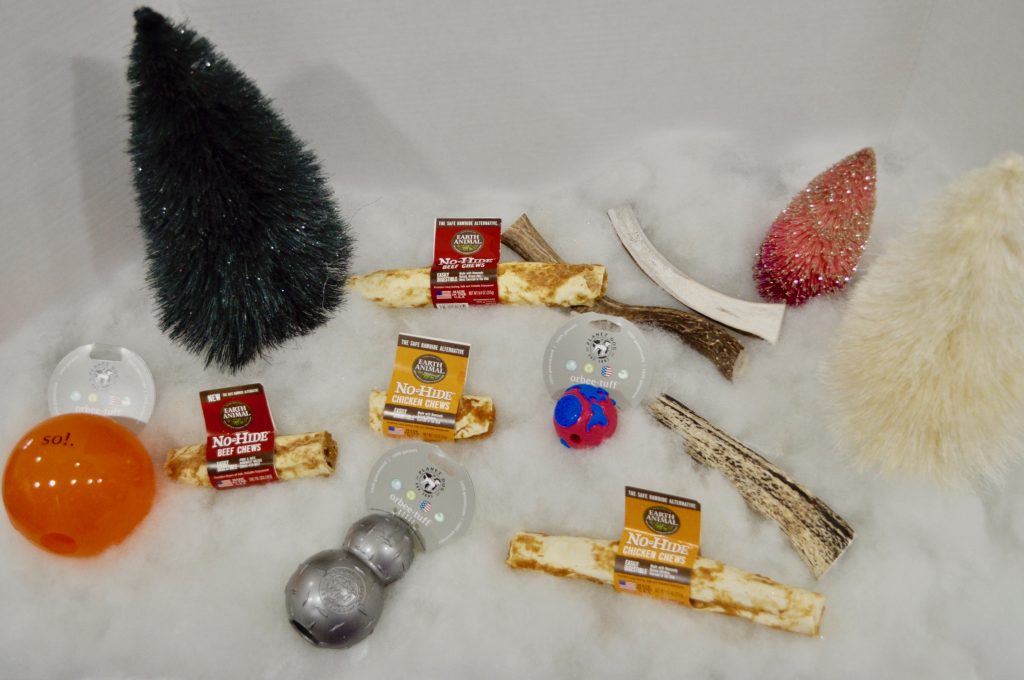 Chewer gifts from left to right: SOL Ball ($20), various No Hides ($8 – $12),
Orbee Double Tuff ($18), Orbee Globe Ball ($11 – $19), various antler sizes ($20 – $45)
Winter Wanderers
Adventure seeking in the great outdoors is much more enjoyable when you have your favorite furry friend alongside you. Whether you're hiking with your 4-legged friend, enjoying a walk around the neighborhood or taking a road trip to an outdoor destination, these picks make everything a little more cozy and a little more fun.
Kurgo Loft or Back Country Coat – if you plan on being outdoors for an extended period of time, a warm coat for your pup is always a good idea. The Loft coat provides a quilted, water resistant extra layer while the Back Country Coat is fleece lined, water proof and comes with an LED light for keeping track of your pup.
Kurgo Classic Yard Game Toys – the holidays are all about nostalgia, these toys offer a doggie twist on a human favorite.
P.L.A.Y. travel water bowl – keep your dog hydrated on all of your adventures together.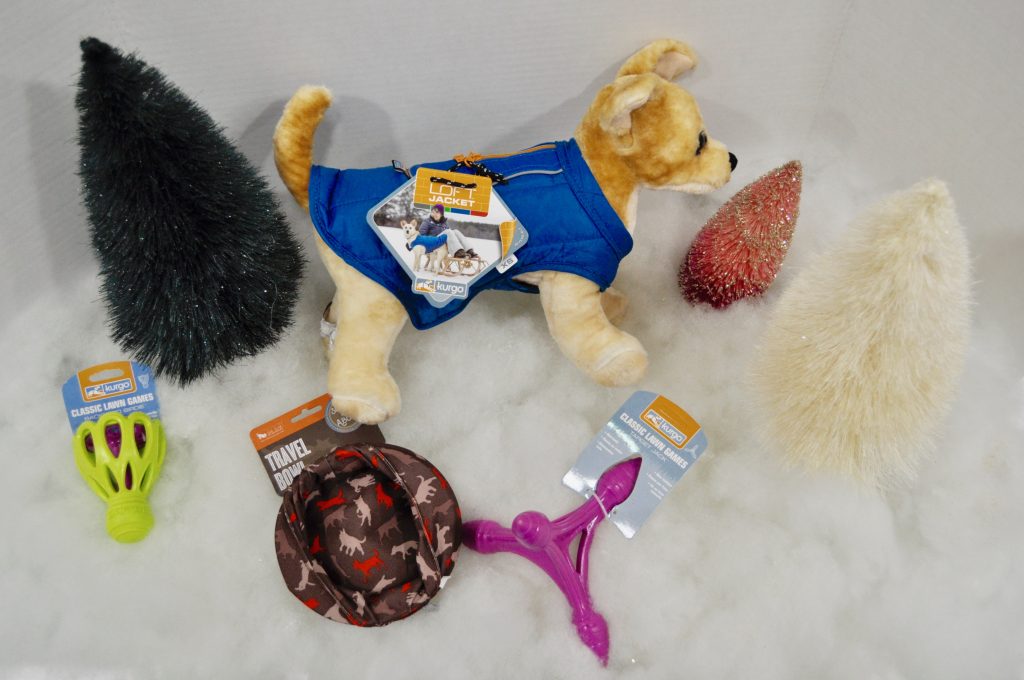 Winter Wanderer gifts from left to right: Classic Lawn Game Birdie ($8), travel bowl ($14.90),
Kurgo Loft Jacket ($35), Classic Lawn Game Jack ($12)
Gifts for 2-legged Friends
Cozy Comfort Seekers
For those introverts who treasure nothing more than a cozy night in on the couch, snuggling up with their pup in front of the fire. These gifts will keep them warm all winter long, pairs best with hot cocoa and a good book.
Wag Central Hoodie
Coffee mug (not pictured here, $10 – $12)
Tall Tails Fleece Blanket (not pictured here, $13 – $20)
Wag Central Beanie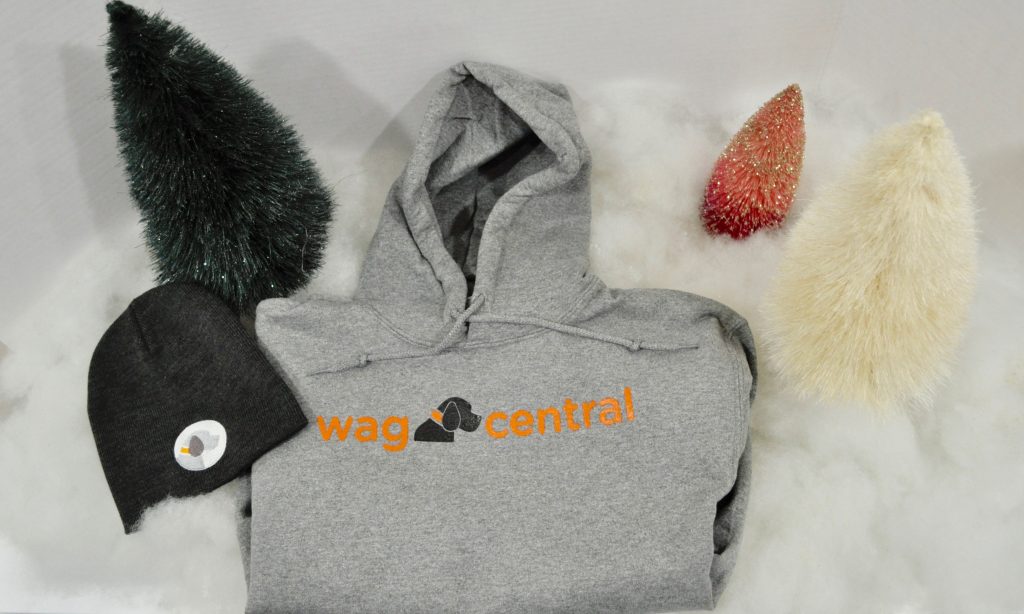 Cozy Comfort Seeker gifts from left to right: Wag Central beanie ($12),
Wag Central hoodie ($30)
The Workaholic
For those on your list who seem like they're even working in their sleep. Add some pizazz to their desk, or file cabinet so they can be loud and proud dog lovers!
The Fringe "Good Dog" magnets
The Fringe "Andy Dog" purse pad or "Painted Breeds" Journal
Coffee Mug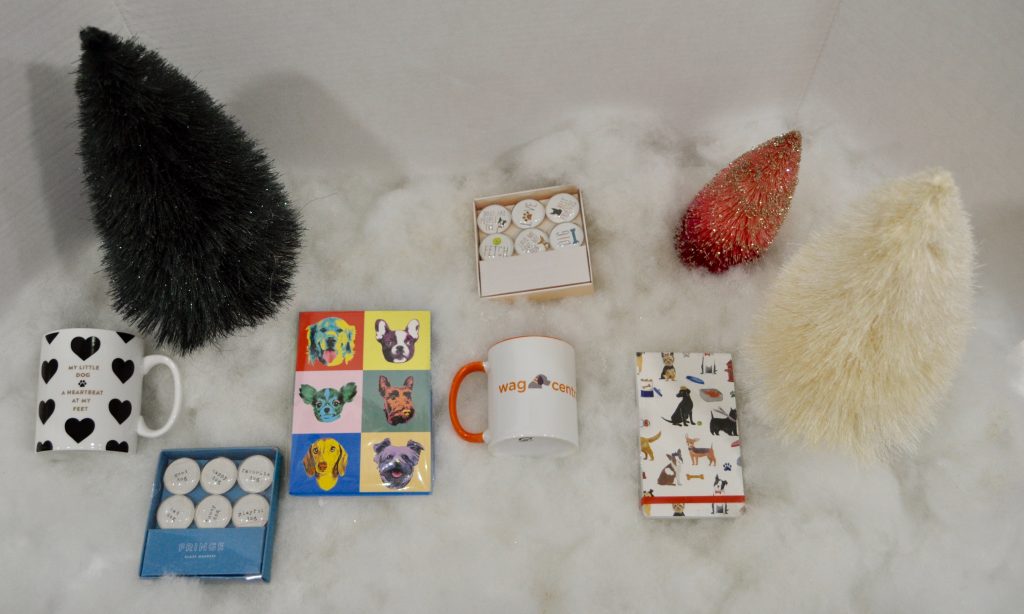 Workaholic gifts from left to right: Fringe heartbeat mug ($10), "Good Dog" magnets ($14.50),
Warhol dogs journal ($10), Wag Central mug ($12), "Funny Dog" magnets ($14.50),
"Painted Breeds" purse pad ($7)
Wag on over to our boutique to see all these ideas in person, or if you need help finding the paw-feet gift, don't hesitate to ask our Concierge! We are also offering gift cards, redeemable in our boutique or for any of our services!
Happy Holidays from the Wag Central Team!