Wag Central will be at the Global Pet Expo!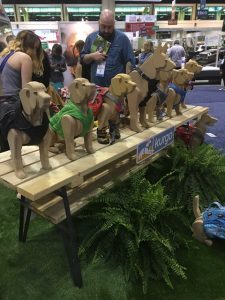 The world of pet care is vast, exciting, constantly changing and I'm right smack in the middle of it!
The Global Pet Expo, open to the trade and held in Orlando, Florida will be in full swing this week, and I am jazzed to be attending for the second time as a buyer. My first visit was last year, prior to the launch of Wag Central, and I inhaled the experience like a pooch at the dogpark. Besides educational seminars for veterinary practitioners, manufacturers, boutique owners, as well as pet specific facilities like Wag, there are aisles and aisles of everything the pet industry has to offer…marine life, hamster exercise toys, ferret food, cat nip, iguana warmers, horse shampoos, bird seed and of course dog necessities and novelties.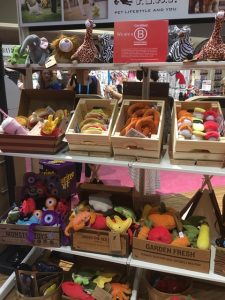 I remember milling through the nutrition aisles, intrigued by the vast multitude of pet food brands and choices, overwhelmed by samples of exotic proteins, toppers, dehydrated foods, raw food and plant based diets. Not to mention the abundance of puppy, adolescent and geriatric varieties of cans and kibble available. Toys were overwhelming too…squeakies, knit, hard to destroy, teething, plastic, silicone, treat dispensing, puzzle toys, busy toys… the varieties are endless. Want to talk teeth and chewing? I was engaged by salespeople about exactly what is good and safe for your pup to nibble on…pig ears, ram horns, antlers, cow tracheas, chicken feet, nohides, and some things that your dog is chewing on that I may gloss over rather than admit to. Delighted, I made contacts around the country and around the world with people who manufacture pet costumes, dishes, feeders, leashes, collars, flea and tick prevention, software, pet trackers, and treats. I sampled grooming products on my own skin, lotions, shampoos while I inspected the newest and best in grooming tables, bathing systems, innovations in drying and stress free alternatives. I saw stair and ramp systems to assist arthritic pups to get in and out of cars, bedding for all life stages, housing, kennels, and met designers who manufacture cabinetry to retrofit kitchen cabinets into dog crates, or pull out feeders for water and kibble dishes. There are bumper stickers, cards, t-shirts, ball caps, magnets, dishtowels, note paper, Christmas ornaments, tote bags, carriers and so much more!
So here I am, days before, looking for balance between my left and right brain. My purchases at this show can be more conscientious this year, as now I know my client base (both two- legged and four-legged) and can focus on helpful tools for training and overall health. This year, I'm especially interested in anxiety relieving tools, whether it be shirts, wraps, oils and yes, cannabis and hemp based products. And signature happy left brain Wag fun stuff too, like birthday and gotcha day toys and treats.
I want Wag Central not only to be a dog care facility. I want it to be the ultimate experience for pups and their owners. That can't occur without a concierge level of expertise. I'm an expert in my own right, respecting that this unique business needs to be built from the ground up, from a great building, to great systems, to great staff, to great offerings for our clients, while still taking great pride in personally getting to know each of your dogs. How did I learn all of this? By networking and collaborating with the right people in the industry, and bringing the good stuff back to Wag. I can guarantee you this, if you have a question or a need regarding your pup, I'll either know the answer, or call into action my still-growing amazing network of pet care professionals from around the world.
How's that for service?
Questions, comments, yips or yaps?
Pull my tail at angela@wagcentralct.com.
WWFN! (Woof Woof for Now!)
Angela Pantalone
Chief Tail Wagger, Wag Central