Wagger of the Month,  April 2018 
Summer, a 6 year old Labrador Retriever, is a face you'll see often at Wag Central.  Why, you ask? This happy go lucky Wagger is a frequent flyer at Wag primarily because her family skis and they haven't figured out quite how to teach her to shred. No worries, though.  Like her namesake, Summer prefers warm weather and sunny days.   While her family is off throwing snowballs, Summer likes to ham it up in daycare and sleep in her own special Wag run.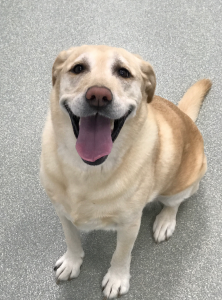 As an adolescent dog, Summer could have been set in her ways and averse to a new experience like upscale boarding in our kennels and daycare in our 3500 square foot play park.   But this happy girlie fit right in, clowning and milling about, making friends, shaking paws, and doing her happy thing.  Wag Central is truly Summer's home away from home, and her Wag family keeps her safe, comfortable and engaged so that anxiety is not an issue.   Being away from home can potentially be a stressful experience for a pup, and we at Wag are very sensitive to this.   Offering everything from comfortable bedding, multiple choices in sleep quarters, a balanced, active day program, swimming and spa add ons, to holistic remedies to assist in sleep, Wag has multiple recipes that can promote a relaxed, happy dog while families are off on                                                             their adventures.                                                                          Summer takes a daily medication, and our staff is careful to be sure it gets administered properly, and meticulously records the process.   Some pups are not too thrilled to take pills, but our well-trained staff has lots of tricks up their sleeves to get the medicine down.  And with Wag Central's staff here 24 hours a day, Summer's parents know that there is always a human who checks in on her overnight.  By following the directives from home, our team replicates the routine and usual daily activity of the pups in our charge so that a day of Wag play does not become a boot camp!

Summer lives the best of both worlds here at Wag because we have taken the time to find out about her home life, activity level, play style, medication, eating habits and her love of human interaction.  During our first meet and greet with any potential boarding pup during our Personality Profile,  we make sure we get the lifestyle skinny so that we can customize a stimulating, recreational environment similar to home, that balances out the slumber that this Wagger needs.  We do this for both our daycare and boarding clients, then make recommendations.   Our new mandatory First Day Wagger program helps pups, peers and staff get to know each other, and our Boarding Continuum Programs help those pups who board, yet keeps the socialization aspect of Wag fresh so that anxiety is on the DL.   We have found that these introductions and programs make for happier pups in our state of the art facility.   And who doesn't love a happy pup!?
Come check out Summer's smiling face and happy tail the next time you're at Wag Central!