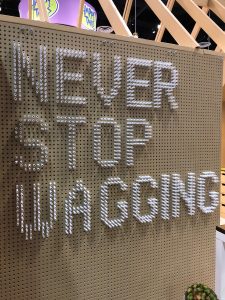 My time at the Global Pet Expo has come to a close and it's been a whirlwind. I tried to share as much as possible on Facebook, and I thank everyone who has shown an interest as this business grows.
With this trip away from my children, pups and new business, I went with a clear head, mind and plan. My goals were to find great products for handling, health and anxiety relief, inject some fun into our birthday treat, gift and wrap area, network to meet more experts to continue to serve our 4-legged clients, and grow the business in powerful and positive ways. I was pleasantly surprised!
As far as anxiety relief, I took the time to speak to many of the representatives from various companies that are using cannabis and hemp to tout anxiety relief. I didn't make any retail moves here, but asked for samples to give to my 4- legged clients. I'm hoping that the oils, chews and brownies (yes brownies) that I've been promised arrive at Wag in the next week or so. If you think your pup will benefit, let me know and I'll have it for you to try.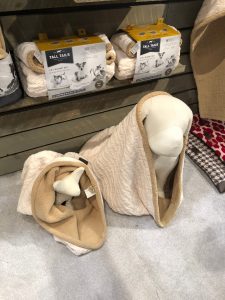 Blankets are kind of a big deal to our pups because of their natural instincts to burrow, and in our homes, blankets replicate that to the outdoors. I'm excited about the options I found to add to our already-in-place, best selling brand of Tall Tales.
I love the Kurgo, Ezy Dog, Jolly Pet and Planet Dog brands since they embrace the fun and adventurous side of dog ownership. This year their new offerings didn't disappoint, and you'll find fresh new inventory in our store encouraging you to play with your dog. I ordered a slew of my favorite running leash, and this summer I can't wait to run beachside with Chance on it. It's hands free, so it attaches to your waist or across your shoulder, and has a bit of a bungee give to it. Yum to the versatility and calorie burning for both of us. Instead of a loop for your hand, a favorite leash of mine has a neoprene glove. Slipping your hand in makes walking your pup so comfortable you'll forget you're holding a leash, especially for those with arthritis, carpal tunnel or other hand related issues. I cannot wait until they all arrive so we can show you the innovations.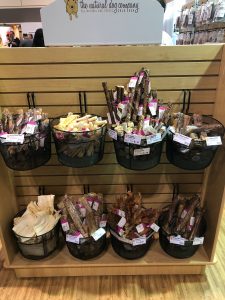 A friend suggested that I should check out Fluff and Tuff toys. This brand only sells to independent retailers, so they will be pretty exclusive to Wag's neck of the woods. And may I say wow to the cuteness factor here. Priced under $20, these pup toys, cleverly disguised as "lovey" stuffed animals, are really durable and stand up to the ruffthat our pups can dish out. I fell in love with the flamingo and sloth designs. These will be great birthday gifts in our soon to be created birthday area, where we will have new bakery treats, cakes for order, and of course, pup gift wrap!
Finally… connections. From pet store owners, manufacturers, bakers, writers, consultants, old school veterinarians, holistic veterinarians, Animal Planet TV stars, I met them all, have their cards and contact info, and will keep in touch so they won't forget me. I hope you'll let my connections become your connections!
Thanks for reading and sharing your awesome dogs with me.
Questions, comments, yips or yaps?
Pull my tail at angela@wagcentralct.com.
WWFN! ( Woof Woof for Now!) Angela Pantalone
Chief Tail Wagger, Wag Central