By Vanessa Pagan
Bully Bestie / Play Park Ranger
For years I gave my dogs rawhides, I just assumed that they were a safe and long lasting chew. One day when my dog, Bruce, was chewing one and I noticed there was a nasty odor coming from the rawhide. I immediately threw it away and hopped online to do some research. I learned that raw hides are washed in a hydrogen peroxide bleach solution and toxic chemicals like lead, arsenic, and formaldehyde have been found in raw hides. These chemicals have been linked to cancer!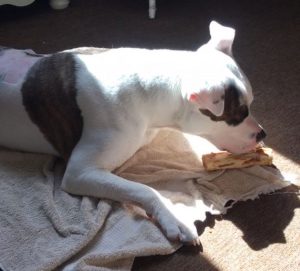 I was horrified and on the search for a natural, safe alternative. Then I discovered Earth Animal No Hides! No Hide chews are a super safe, long lasting chew made from real ingredients and free from chemicals. No Hides are easy to digest for the most sensitive stomachs. I don't like buying anything from China, so when I discovered that Earth Animal  makes their products in a human food processing facility in PA , I was very impressed!
Dr. Bob and Susan Goldstein own the brand Earth Animal. The two have worked side by side for over 30 years in the field of holistic veterinary medicine. It's wonderful to know that there are actual faces behind this company.
No Hides come in 3 flavors – Salmon, Chicken and Beef and in 3 sizes. Wag Central proudly carries No Hides in our Boutique, they make a great add-on when your favorite 4-legged friend is boarding  or even as a Wag-worthy surprise for your pup!